Reduce Chlorine Usage
There is a direct relationship between the pH of a swimming pool and the effectiveness of the chlorine used to sanitize the water. Proper water chemistry is the best way to optimize chlorine usage and reduce spending on chlorine.
Since
pool stabilizer
plays a major roll in optimizing chlorine usage, let's take it out of the equation for this discussion and assume it's at the proper level of 30 - 60 ppm.
Many pool owners don't give enough attention to keeping the pH in the proper range and then wonder why they have to put so much chlorine in the swimming pool to keep it clear and algae free. The fact is that chlorine is most effective at a pH level of around 6.0 and least effective above 8.5, but either of these values will create a harsh environment for the pool surface, pool equipment, and swimmers. The recommended pH range for a swimming pool is anywhere between 7.2 and 7.8.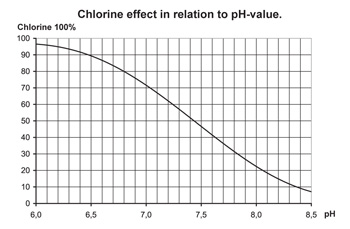 So based on the chart above, the chlorine will be around 60% active at a pH of 7.2 and around 30% active at a pH of 7.8. Simple math says that 7.2 would be a good target pH for optimizing chlorine effectiveness and possibly reducing chlorine usage up to 50%, a significant savings!
For this reason alone it is worth investing in a good
pool test kit
and learning how to become an expert on testing and adjusting the pH of your pool to the optimal level. It's not hard, it just takes a little practice.
Helpful Products for this Tip
Taylor Pool Test Kit
Aquaguard Pool Test Kit